※Request on visit※ [Dec.23 2022 UPDATED]
Please be sure to check Guidelines regarding Covid-19(PDF) before coming.

Want to learn how to lift from zero, weightlifting, gymnastics?
erhaps want to build physical strength for injury prevention or do shape-up?
We, coaches in CrossFit DAIKANYAMA, offer a personal training service that is personalized to your purpose and goal!
Look at trainers' backgrounds and qualifications
Personal Training For Everyone
We accept all ages for personal training.
Kids, teens, adults, and elderly people.
Please feel free to contact us if you have any concerns!
Reservation
We accept a reservation through "STORE'S RESERVATION SYSTEM ".
QR code

Payment
All payment is completed online through "STORE'S RESERVATION SYSTEM ".
Only credit card payment is accepted.
Contact
TEL:03-6892-4800
MAIL:info@crossfitdaikanyama.com
New Arrivals
2021. June.
Dear members,
CROSSFIT DAIKANYAMA
Change of Class Schedule, Class Capacity, and Others
Thank you for your continuous support for CROSSFIT DAIKANYAMA.
After discussing and evaluating the situation today, we decided to change our class schedule and class capacity from Thursday, July, 1st, 2021 as follows.
We appreciate your understanding in advance.
Details
■ Class Schedule
Sunday
9:00
Competitors
→
Class
13:00
Class
→
Class/ON RAMP
14:00
Class/ON RAMP
→
Competitors
■ Class Capacity
 12 people → 14 people
※Only competitors class remines with 8 people capacity.
■ Others
 ・Attending both Weight Lifting Class and regular class will not be allowed.
We appreciate your understanding and cooperation of HALEO DAIKANYAMA on "Guidelines regarding Covid-19" such as wearing a mask outside of the gym area, arriving and leaving the class in 30 minutes-range from the class time, and avoiding a conversation without wearing a mask.
Please refer to "Guidelines regarding Covid-19" posted in the gym and CrossFit DAIKANYAMA website (http://www.crossfitdaikanyama.com/).
Thank you.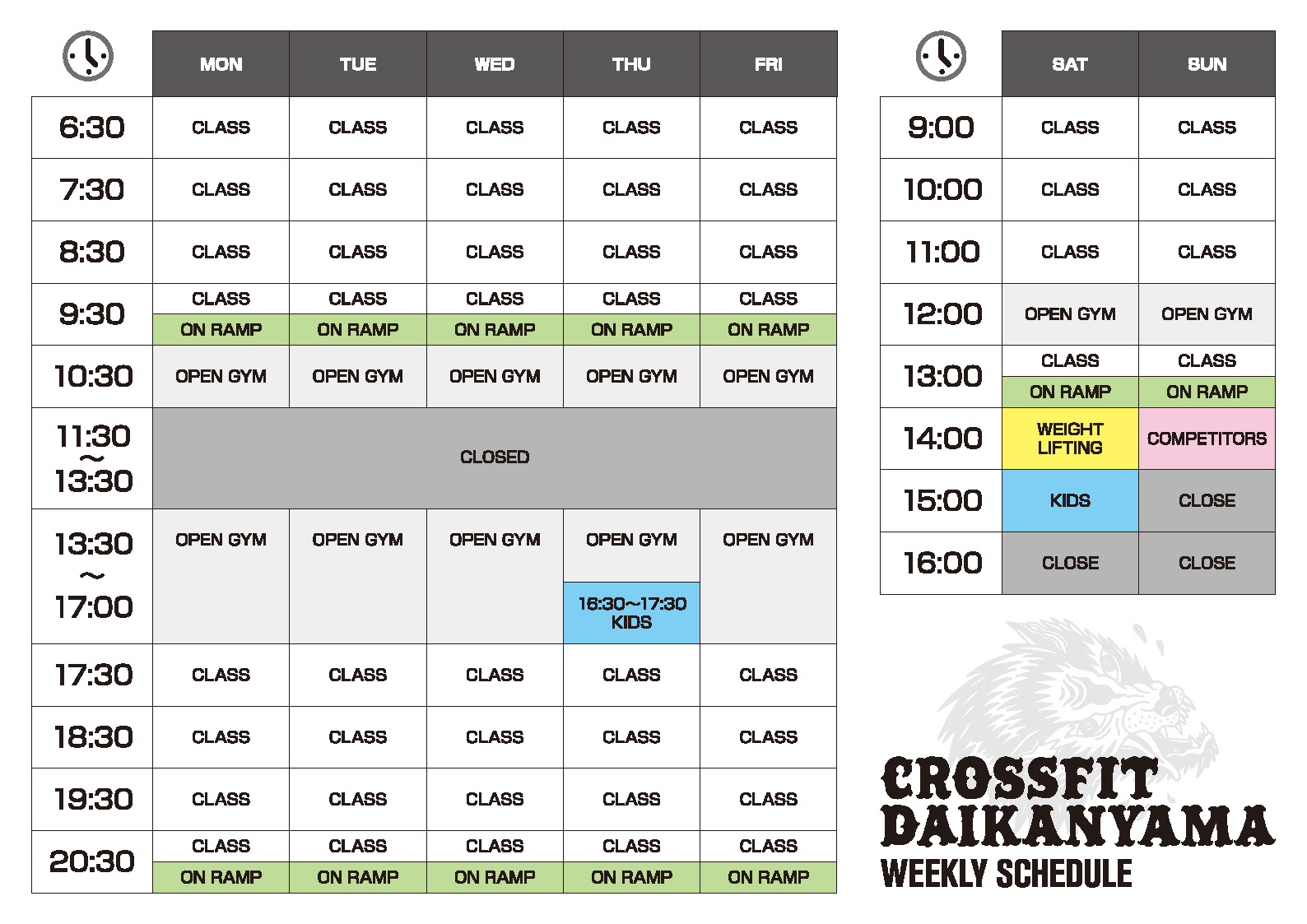 March 25th, 2021 - Updated CrossFit Daikanyama Instructors List
Drop In
Welcome to CrossFit Daikanyama!
Drop-in fee is 4,000yen(inc tax) per person.
Includes full use of the facilities, group classes and open gym.
Click
here
for more information.
For reservations, email
info@crossfitdaikanyama.com
CrossFit Daikanyama
CrossFit Daikanyama is not just a place to get a good workout – it's a diverse, tight-knit community that includes elite athletes, house wives, business executives, doctors, lawyers, world champion martial artists and retired grandparents.

Say goodbye to the fuss of creating and sticking to boring old workout programs.

Everyday we have a new, intense but fun workout to keep you progressing to your health and fitness goal. While many of our workouts are timed and competitive, it is all done in a supportive and team-oriented environment.

We have showers, lockers, a protein bar, rental wear and towels so just show up ready to sweat and have a great time doing so!

What really makes us special however, are our diverse backgrounds and cultures united by the desire for greater health and performance.

Here we know ourselves as TEAM DKY, where all of our members and coaches know each other, support each other, inside and outside of the gym.

We invite you to come and share in the fun of getting fit and healthy - together!